| history page | home page |
---
The BSA's First Eagle Scout
Arthur Rose Eldred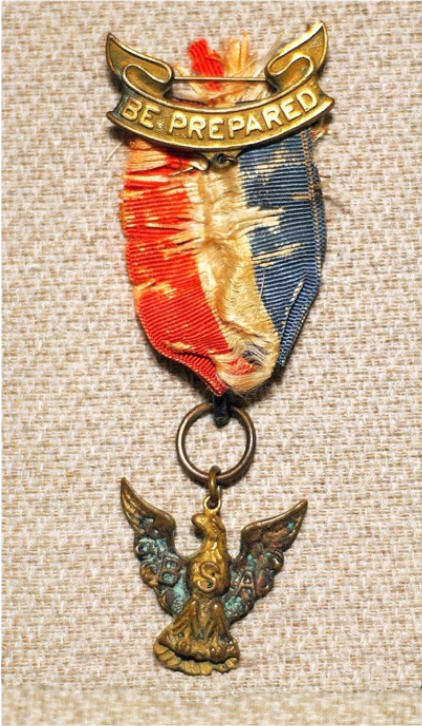 Arthur Eldred's Eagle Medal
Courtesy National Scouting Museum

There have been several articles written about the Boy Scouts of America's first Eagle Scout, Arthur Rose Eldred. Many of these seem to draw on an unknown common source or sources. For this reason certain erroneous information has been perpetuated: for example that Eldred had a local board of review (then called court of honor) for his Eagle before having his National Court of Honor (board of review); and a widely published but misattributed photograph showing an early Eagle Scout, and identified as Arthur Eldred.

It is in the interest of correcting such errors, and presenting additional facts to the history surrounding the BSA's first Eagle Scout that I will attempt to lay down certain established facts based on primary sources whenever possible.

My interest in the subject first began when I purchased two original photographs of an early Boy Scout with 21 merit badges on his uniform sleeve, and medals on his chest. Printed in ink on the bottom of one of the photographs was "Arthur Rose Eldred". Needless to say, I recognized the name, and was eager to discover if this indeed was the BSA's first Eagle Scout. Like so many others, I had seen a photograph in the 1985 book The Boys Scouts: An American Adventure, and again in an article in the "Scouting" magazine purported to be Arthur Eldred. There was not much resemblance to the photographs in my possession. I, therefore, contacted the National Scouting Museum, and asked if they had any other pictures of Eldred. They were able to supply only one picture of Eldred as an adult, at the Eagle Scout award ceremony for his son, Willard, on October 27, 1944. In return, I sent copies of my two photographs to the museum. Although considerably older in the picture, I could see a strong resemblance between the adult Arthur and the two photographs I had. However, I was still not able to reconcile the photographs with the one appearing in the publications. Unable to get any more information, I set them aside until one day, while researching another topic on the internet, I happened to see a copy of a letter to the editor of "Scouting" from Willard Eldred stating that the photograph shown in these publications was not of his father, but rather Theodore Gaty Jr., the 38th Eagle Scout badge which was announced in the August 1913 issue of "Boy's Life".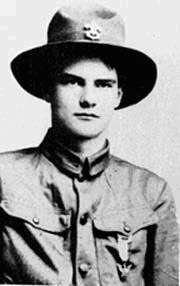 Picture believed to be Theodore Gaty Jr.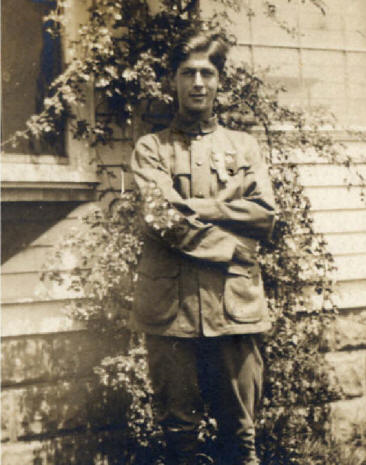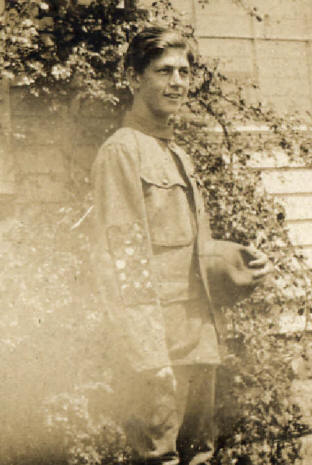 Authentic pictures of Arthur Eldred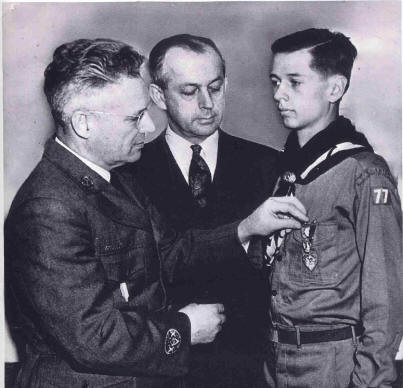 Arthur Eldred (center) with son Willard
I was able to contact Willard Eldred, and quickly solve the puzzle. Mr. Eldred had one picture of his father as a Scout, and it was identical to the named picture I had. In addition, he was able to authenticate the second photograph (obviously taken the same day at the same location, but a different pose) as being also of his father. He stated he had never seen this second photograph before. In addition, Mr. Eldred was kind enough to provide me several documents including: a photocopy of a letter written by his father in March 1940 to the principal of his old high school in which he discussed his Scouting career; a copy of his Scoutmaster's account of their troop serving as honor guard for the visit of Lord Baden-Powell in 1912 to New York; an account of Arthur Eldred's life saving actions which led to his receiving a meritorious award; and a copy of letter in which James West officially notified Eldred that he was the first Eagle Scout. From these documents, and other accepted sources the following facts can be established.

Arthur Rose Eldred was born in Brooklyn, NY on August 16, 1895. His father died when Arthur was very young, and he was raised in Oceanside, Long Island, NY by his mother. Scouting came to Oceanside in 1910, largely through the efforts of Arthur's older brother, Hubert W. Eldred. There was a troop of American Boy Scouts (an early rival to the BSA which had as its benefactor William Randolf Hearst), in nearby Rockville Centre, NY. The methods of the ABS revolved around military drills, which this troop held in the Rockville Centre Club. Hubert Eldred went to New York City to the ABS Headquarters to see about forming an ABS troop in Oceanside. However, during his visit to New York, he also visited the offices of the fledgling organization of the Boy Scouts of America, which were then located in the YMCA Headquarters building. Hubert was so impressed with the ideals of the BSA that he decided to form what was to become BSA Troop 1 of Rockville Centre, NY in November 1910, and served as its Scoutmaster. The troop was designated by this city name because the Eldred residence was located on Terrell Ave which was listed as Rockville Centre by the Post Office for delivery of the mail. However, all the boys in the troop attended the Oceanside School. This troop was also instrumental in starting the first BSA troop at nearby Freeport, Long Island, NY.

Troop meetings were held on the second floor of the Eldred barn on Terrell Ave. Eldred's troop was one of the first troops in the United States to be completely uniformed. Each boy had to earn money for his own uniform. So important was this to the boys, that one young Scout, Melvin Daly who Arthur later saved from drowning, once came to a Scout meeting in heavy snow in shoes with soles worn to the skin in order to save money for his Scout pants.

Being so well uniformed and drilled, it was only logical that James E. West, the first National Scout Executive, asked the Scoutmaster to bring the two local troops to New York City to serve as honor guard for General Robert S. Baden Powell. "BP", the founder of the Boy Scout movement, was due to arrive in New York from England on January 31, 1912 to begin a multi-city lecture tour. The Scoutmaster gave his regrets, but told West that his troop did not have the carfare for the 21 mile train trip. However, the Scout Executive immediately said that if the troops would come all expenses would be paid by his office.

The Scoutmaster related in his report that General Baden Powell said: "that his finest memory of his entire trip around the world, was sailing up beautiful New York Harbor, and seeing the long line of erect uniformed Boy Scouts with the American flag on the right of the line and the British Cross of St. Andrew on the left of the line and the Boy Scout Flag in the center".

As General Baden Powell walked down the gang plank of the SS Arcadian, forty Boy Scouts moved to form two long lines on each side facing inward. BP stopped to ask each Scout his name and rank. Arthur Eldred, being the tallest of the Scouts at 16 years old was the last Scout in line. The Scoutmaster stated that BP's face lit up when he saw the many merit badges on Eldred's sleeve and his large gold colored First Class pin. He grabbed Arthur's hand and asked him all about his merit badges. Arthur was extremely modest by nature, so much so that in future life he rarely if ever spoke about himself or his achievements. His face turned red in embarrassment as BP continued to address him while the adult welcoming committee could only stand and wait.

In his letter to the Principal of Oceanside Senior High School, Arthur also stated that at the first rally held by the Boy Scouts of America in New York (at the 71st Regiment Armory in February 1911) Eldred's troop put on a "most spectacular" demonstration in lashing a 20 foot signal tower of saplings and then continued with a signaling exhibition. As a result of this display of Scout skills, the troop was invited to visit a number of troops in New York City and Westchester County to discuss their troop activities.

One source outside of the documents I have states that Arthur earned his first class badge in March, 1911. Like many of the first few Eagle Scouts, Eldred did not receive either a Life or Star Badge (Life proceeded Star until 1922), but went straight to Eagle. At this time, First Class was considered the highest rank in Scouting, but Scouts could be "Merit Scouts" by earning the required merit badges to become a Life Scout, Star Scout and an Eagle Scout. In the early days of the BSA, these awards might be likened more to super merit badges rather than ranks.

Eldred completed the required 21 merit badges for Eagle in April of 1912. In the August 1912 issue of Boy's Life, Eldred was listed in the Honor Roll section as having received the following merit badges: Civics, Cooking, Cycling, Electricity, Firemanship, First Aid to Animals, Gardening, Handicraft, Horsemanship, Interpreting of French, Life Saving, Painting, Pathfinding, Personal Health, Poultry Farming, Public Health, Swimming, Chemistry, Dairying, Business, and Plumbing.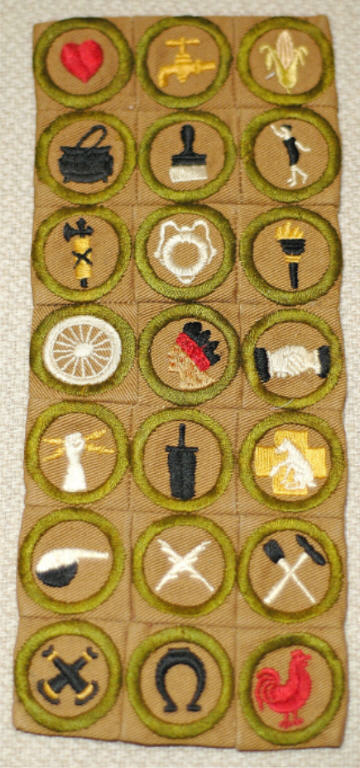 Arthur Eldred's Merit Badges
Courtesy National Scouting Museum
In his letter to his principal, Eldred states that he "of course" did not have a local court of honor (board of review) but secured affidavits from the local men who examined him for his merit badges. He did, however, have to undergo a board of review by members of the National Staff of the BSA to see if he was properly qualified. Eldred stated that Daniel Carter Beard, the first National Scout Commissioner, examined him personally on several subjects. Wilbert E. Longfellow, who had written articles on life-saving and swimming in the Scout Manual, examined him on those subjects. James West and others also "grilled" him rather thoroughly. Other sources state that Ernest Thompson Seton, First Chief Scout, also examined Arthur.

In a letter dated August 21, 1912, James E. West formally notified Arthur Eldred that he had the honor of being the first Eagle Scout of the Boy Scouts of America. In this letter, West informed him that the Eagle badge would be presented at a later date. A primary reason for this was that the dies for the badge had not yet been made. Eldred received the actual badge on Labor Day 1912.

In August of 1912, Arthur Eldred was to qualify for a second exceptional award. While on a camping trip with the troop to Orange Lake, NY a non-swimmer 15 year old Scout, Melvin Daly, waded out into the lake and found himself in water over his head. He started to drown. Arthur Eldred, seeing the Scout's predicament, swam out and pulled Melvin up from the bottom. Daly grabbed Eldred in a "death grip", and a struggle began. Another Scout, Merritt Cutler, swam out to help. Daly then grabbed him, and they both went under. Eldred then was able to bring Daly to shore, and went back to assist Cutler. Two other Scouts in the troop witnessed the rescue, and signed statements in an application for the life saving award. It has been said that Arthur was presented the BSA Honor Medal by Chief Seton. In the photographs in my possession, this award can be seen on Arthur's uniform.

Eldred was a student at Oceanside School and was first to receive the Regent's Certificate after it was approved as a high school. He entered Cornell University in the fall of 1912 to study agriculture.
As for Rockville Centre BSA Troop 1, most of the Scouts in the troop were also 17 of 18 years old by the time Arthur received his Eagle Medal. In the early part of 1913, the troop more or less disbanded, and Arthur's brother Hubert left Rockville Centre about the same time.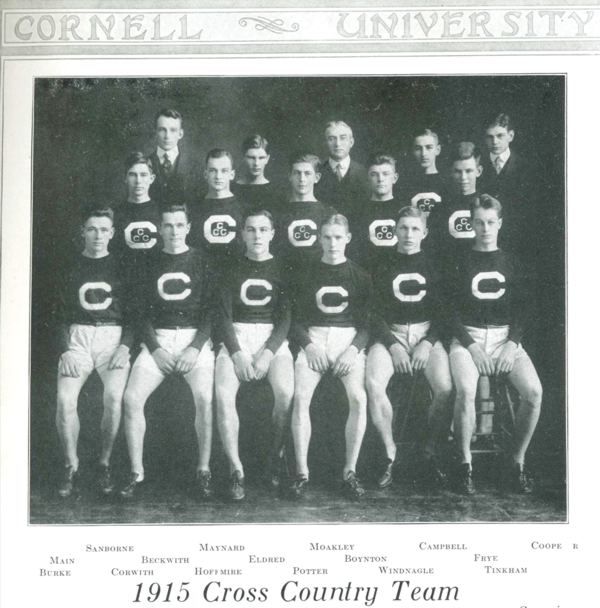 Arthur Eldred is in the center of this photo of the 1915 cross country team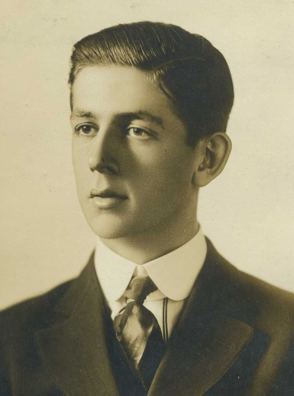 1916 Cornell graduation photo


A 1985 article of "Scout Memorabilia" gives the following information about Eldred's later life. At the university, Arthur was on the track and cross-country teams, and president of the Cornell University Agricultural Association. He graduated in 1916. During World War I, he served as an enlisted man aboard a U.S. Navy submarine chaser based in Corfu Greece. Upon his return to the United States Eldred went to work for a dairy, and in 1921 became the agricultural agent for Atlantic County in New Jersey. During the seven years in that position, Eldred was credited with establishing the Atlantic City municipal market for farm products, as well as other accomplishments on behalf of the county's farmers.

In 1928, Eldred left his county job to become a specialist in promoting railroad transportation of produce for the Reading Railroad. As movement of produce by truck became an ever more important part of transportation, Arthur was named manager of the Motor Carrier Committee of the Eastern Railroad Association. He held this position until his death on January 4, 1951.

Throughout his life, Eldred continued his interest in Scouting. In the 1920's he was a board of review examiner. He also was Troop Committee Chair for his son's Troop 77 in Clementon, NJ, and served as a member of Camden County Council. He also served on the Clementon Board of Education, and was president of the Overbrook regional school board.


Gary Twite
District Commissioner
Green River District
Chief Seattle Council BSA

February 2005
(Gary received the following e-mail in March 2005 from Willard Eldred, Arthur Eldred's son, in response to a request to proofread the above biography)
Gary,
Thanks for sending me the very comprehensive article on my father. I could not detect any errors based on what I know. You are correct in assuming that the Scoutmaster [from a document called Scoutmaster's report] was my father's older brother who was - as I recall - some 12 to 14 years older. I only met Uncle Hubert on 2 occasions as he lived in Maine, Mexico and Arkansas.
All the best to you and your scouting friends,
Bill
---
Please direct all inquiries & submissions to .

Last update: 11/15/2009